Thanks for the good wishes.
It was a glorious day today so this afternoon I decided to walk to Kiefersfelden, the next village south. I mistakenly thought that it was considerably bigger than Oberaudorf. I got into the village and there was nothing there, so I asked a waitress in one of the cafes where the village centre was. She gave me a funny look and said, "Well it's all around here. That's the main road through the village just over there". I tried again and said " Is there anywhere where there are several shops all together?" She directed me further down the road where I found a small supermarket and a German version of "Superdrug" side by side. That was it!
The walk itself was lovely, there are stunning mountain views all the way there and all the way back. The Zwetschen (damson) torte with whipped cream that I needed to give me the strength for the return journey wasn't bad either!
In the meantime, back at the flat I have the living room divided into zones as the bedroom is still a work in progress.
This is the sleeping area.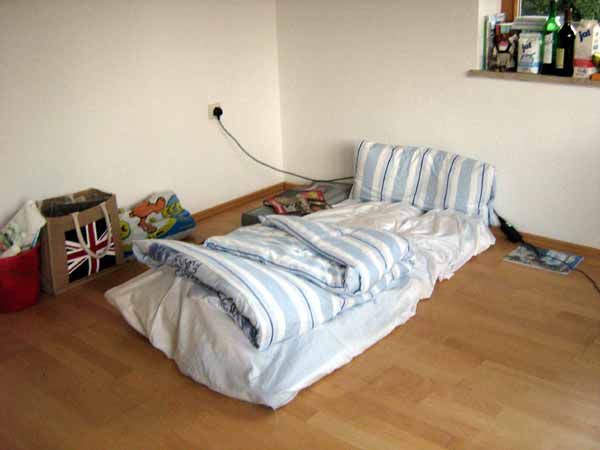 And this is the kitchen area.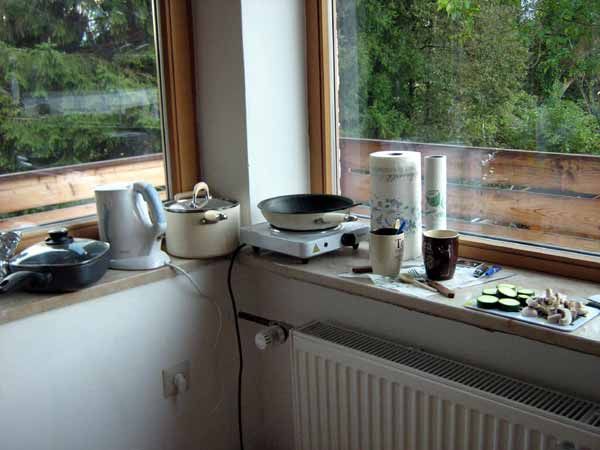 My fridge is a shady outside windowsill and my wardrobe is a drying rack!
Anyone visiting the area will get a warm welcome despite the limited facilities!
By the way, one of my neighbours was intrigued when I told her about the Chalet School books.